For many brides-to-be, the final bridal look needs to be meticulously chosen and planned. Starting with the wedding dress, brides have a wealth of options to consider for bringing their vision to life. Brides can go classic with traditional silhouettes and materials like silk and lace or redefine their wedding attire with trends like deconstructed dressing, oversized styles, and feather embellishments.

But something that should also be included in the wedding attire checklist is a handbag. Besides carrying the bride's essentials throughout the ceremony and party, a thoughtfully chosen bag can create continuity and even elevate the bridal look. So, here's a brief guide to selecting the perfect bag for your wedding day.
Set a budget
While the wedding dress usually takes up a large portion of the wedding budget, accessories like handbags can still be considered an investment. Thus, it helps to set a price range to narrow your options — from designer names like Yves Saint Laurent, whose bags can go up to £1,000, to up-and-coming brands like Stone & Mason with £100-£300 offerings. However, if you really want a luxury handbag for this special occasion, you can look into websites that sell vintage or secondhand pieces to avoid taking up too much of your budget.


Match the style to your wedding theme
While your handbag doesn't necessarily have to be in the same colour as your wedding dress, try to keep the bridal look cohesive by having the bag's style, finish, and details complement the dress and the overall motif. You can look at a single brand's entire catalogue for ideas. If you're on a budget, River Island's range of ladies' handbags can help you find a floral embroidered shoulder bag for a rustic theme or a pink velvet stud purse for a more chic, romantic vibe. Meanwhile, a silver studded shoulder bag suits a dress with equally shiny beadwork or embellishments while also matching the glitz and glamour of larger wedding venues like hotels and mansions.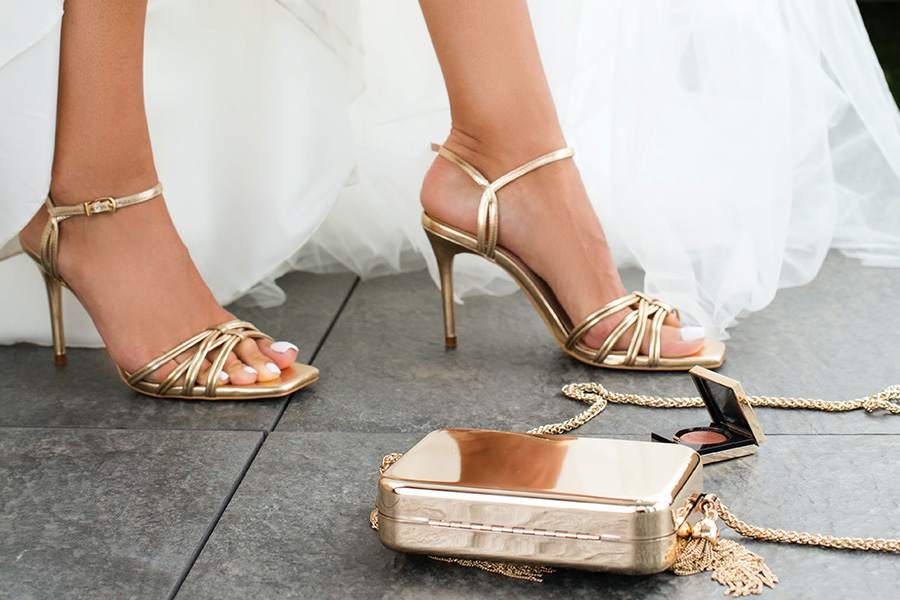 Consider the size
Beyond style, size is also a critical factor to ensure your handbag of choice serves its purpose on your special day. It has to have enough room to store wedding essentials like hair grips and makeup for quick touch-ups and perfume and mints to keep you feeling fresh. However, you don't want it to be too big or bulky that it looks out of place in photos. Opt for compact, structured designs like clutches, envelope pouches, or baguette bags for easy access to your emergency items.


Don't forget comfort and practicality
Since you'll be carrying your bridal bag throughout the day, you must consider comfort when choosing its style and material. Fabrics like silk can be uncomfortable if your hands tend to sweat a lot, while textured nails may snag on studded designs. In terms of practicality, you can also try investing in a sustainable bag with a long shelf life so you can keep using it long after your wedding day. Folklore The Label has statement bags made with high-quality, sustainable materials and natural dyes, while Atomy Studios focuses on pieces that use vegetable-tanned leather.

Overall, the aforementioned tips will help you choose a bag that complements your bridal ensemble while also serving as your emergency carry-all. Once you've made up your mind on the brand and style, don't forget to also curate equally important wedding accessories like jewellery, your veil, and footwear!